Vacuum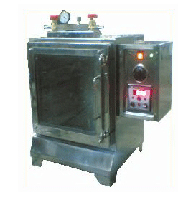 Our customer built vacuum oven is designed to provide temperature control heating and drying application requiring an airless environment.Capable of holding high vacuum, it is ideal for wide range laboratory applications. Our vacuum oven is made of stainless steel with a full observation window,and gasketed doors with sturdy latching,mainly used for anneling and clean evaporation of samples.It is equipped with an easy-to-read vacuum gauge,adjustable thermostat with digital readout, and two valves for bleeding.
Vacuum infrared ovens maintain a vacuum level of 3*10-6 Torr and operate at a temperature of 800 degree C. Vacuum Infrared oven are heat treating oven that uses a low atmospheric pressure. The quartz tube elements are mounted in reflectors to maintain uniformity in the hot zone. The water cooled walls which maintain the exterior temperature for operator safety. Vacuum infrared oven has auto cycle mode of operation but it has also manual and maintenance mode.
Application of this tool include:
Degassing samples
Contanimation-free storage components
Ageing studies
Heating/Drying when oxidation is a problem
Equipment/tool Drying
Moisture determinations
Dry content analysis
Construction :
The stainless steel working chamber with different capacity which can withstand absolute vacuum is fitted in outer M.S cabinet and filled with glass wool insulation.A door with thick toughened glass giving superb visibility into the chamber,which is sealed with easily replaceable silicion/neoprene rubber gasket.Outer cabinet is powder t.A vacuum gauge and value is provided on top.
Heating & Control :
Low wattage density heater with proper insulation are clamped to inner chamber. Temperature control by thermostat or digital controller.A mercury in glass thermometer can be inserted from top with proper sealing. Stand and trays are provided for keeping samples to be heated
Ir Vacuum Heating Systems
Kerone manufactures a full range of gas fired, high and low intensity infrared space heating equipment under vacuum for the commercial, industrial, agricultural, residential and hospitality markets sold internationally.
With Superior Radiant Products, customers can expect the highest quality of products developed, designed, and improved since 1995.
Application of this tool include:
Custom engineered to precisely fit your building heat requirements.
Vacuum vented for maximum safety and operating efficiency.
Burner rates from 60,000 to 250,000 BTU/H can fill any heating need.
HUp to 1.2 million b on a single vacuum pump with single building penetration
Reflectors of superior design and performance with side, bottom and tilted shield options.
Run indicator light.
Couplings that outperform all others.
Burner housing with no loose service doors.
Filters are easily changed even with outside combustion air fitted.
Vacuum pumps are corrosion resistant, heavy duty construction with several sizes available to best match the system.
Decorative grills can be installed as an option.