MW Rubber Pre-heating System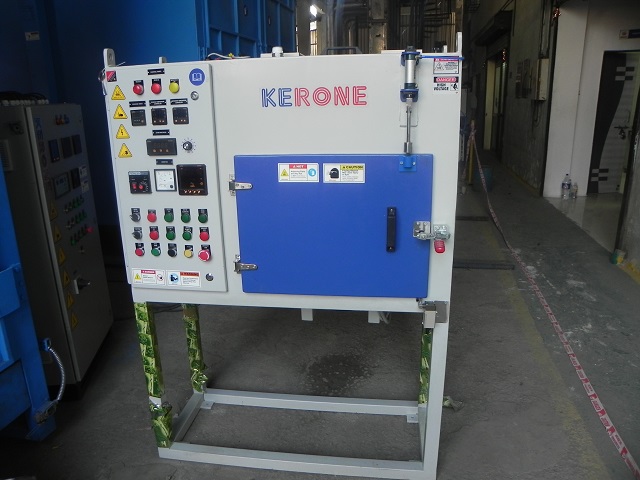 Kerone is an association that helps the rubber fabricates and processors with its high caliber and in fact progressed electromagnetic based heating arrangement controlled by microwave heating. Microwave heating innovation has the ability that it infiltrates inside the rubber material under process and stimulates the water particles present inside, this results in high quality processing in relatively short time. As rubber is a poor conductor of heat, this procedure is exceptionally successful. Our preheating arrangements give incredible advantage to our customers as the high assembled quality and specialized headways make our answers progressively productive and prudent.
Preheating is the procedure that is performed on rubber products before trim and vulcanization, the preheated rubber has brought down inward pressure subsequently the procedure turns out to be progressively familiar; the time required for the processing is decreased. Pre-heated rubber lessens the relieving time and enables the rubber to stream effectively and fill the mould cavity productively. Pre-warming lessens the vulcanization time by roughly 40%. Kerone's microwave based warming arrangements are intended to adhere to the customer's prerequisite. Microwave pre-warming frameworks can be intended for a ceaseless line or a batch type oven, for which Kerone furnishes the most required assistance and solution with economy of scale.
Feature of our Microwave pre-heaters:
Advantages of Microwave pre-heating systems:
KERONE Engineering Solutions Ltd. is a pioneer in application and actualizing building arrangements with its immense experience and group of experts. Since most recent 42 years, it has been into structuring, producing and introducing of Industrial apparatus for different preparing needs. The architects and experts at KERONE have top to bottom information of various heating advances and provide solutions applying them in a gigantic no. of Industrial machines.
Related images