Tower Dryers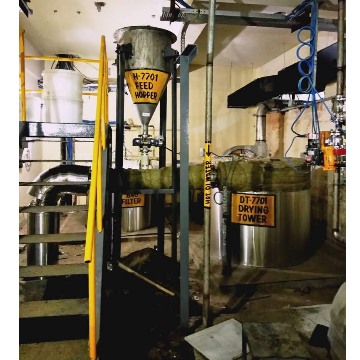 Tower Dryers provide fast, efficient drying for large farm operations and commercial purposes. The tower dryer design utilizes industry proven drying principles along with many unique features to provide the commercial user with a simple, reliable, fuel efficient grain dryer. These Grain dryers function in drying of corn, grass seed, rice, grains, cereals, soybeans, pulses, etc.
It is constructed to be assembled as a shell trunk drop dryer, run on propane-butane or CNG. Grain is dried within the shells between two aligned cylinder shells which drop the dried grain by means of gravity. Inside the shells are invertors that ensure mixing of dried material and simultaneously split the volume between drying and cooling section.
KERONE has over 40 years of experience in designing and manufacturing various types of specialized industrial machines for the processing need of our clients. The heavy, industrial construction and precise airflow of the conveyor dryers are designed to handle abrasive and harsh working environments, while providing continuous and effective working lines.
Features:
Easy Start-up and operation
Simple and reliable construction
Stainless steel outer screens
Easy cleaning without restricting airflow
Maintain balanced heat/air distribution in the plenum
Computerized controls with self-diagnostics
Increase productivity and efficiency
Cost-Effective Installation
Related images