Surface Heating System Gas(Ir)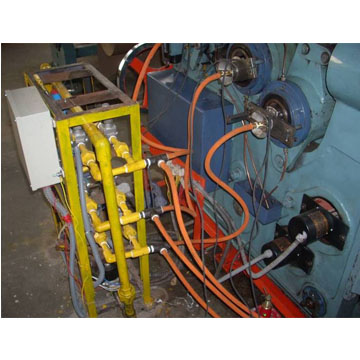 Gas Infrared heat is well thought-out for the easy and economical method of heating or drying of the material under the process. Gas Infrared heaters uses the gas for firing of the infrared radiator which radiates the infrared electromagnetic waves, the infrared waves collides with the surface of the material which caused the surface of material to start getting warm hence its also know as Surface infrared heating system. As infrared heating system / surface infrared heating system radiates the waves from the surface and heats the surface the total process of heating becomes very fast and efficient, also environment friendly.
Every oven is designed only after by carefully studying the client's specific process requirement to develop the heating system that will best fit for the application requirement. We also hold our expertise in designing of conveyorised gas infrared (IR) ovens that uses the efficient gas firing system designed cautiously by the KERONE. The conveyorised gas fired infrared (IR) ovens are manufactured after scrutinizing the speed, heating and cooling zone requirements. Conveyorised gas fired infrared (IR) ovens manufactured are having heating zone control and conveyor speed control mechanism.
Applications :
Infrared heating systems find most common application in
Curing of coatings
Plastic shrinking
FPlastic heating prior to forming
Plastic welding
Glass & metal heat treating
Warming suckling animals or captive animals in zoos or veterinary clinics